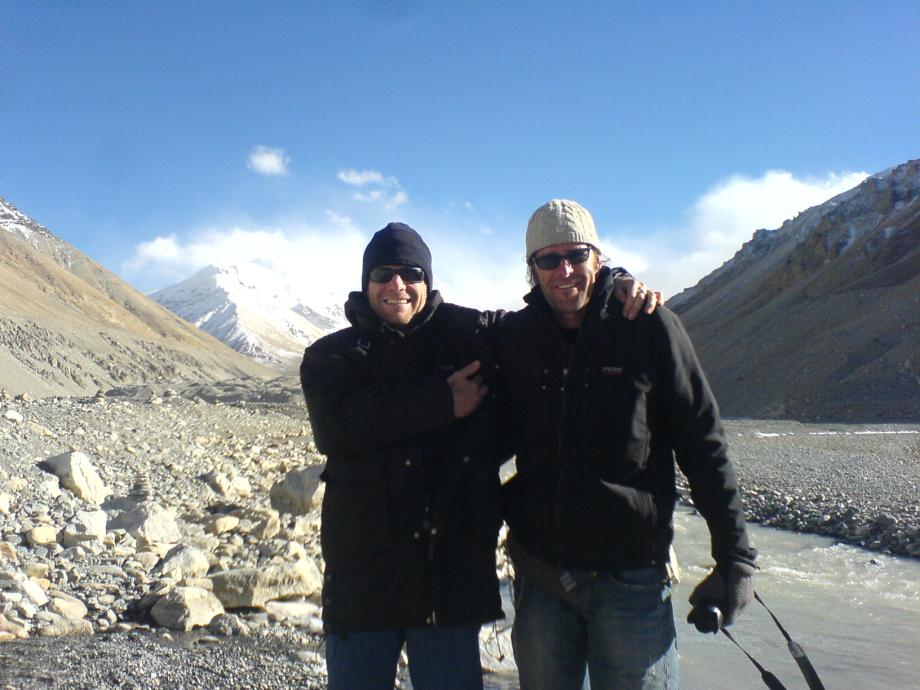 Ueli and Heinz in Tibet, in front of the Chomolungma (Mount Everest).
Peak Architekten emerged in 2005 as a result of the successful collaboration between Heinz Julen and Ueli Lehmann.
The occasion was Heinz Julen's invitation to participate in the competition for the expansion of the infrastructure on the Klein Matterhorn. Four renowned architectural firms were invited to take part in the competition. The Zermatt mountain railways hoped that Heinz's participation would be a more artistic and conceptual contribution. At this time, Heinz had already made a name for himself as an artist, architect and art networker. He had caused a particular stir with the legendary INTO-the-Hotel in Zermatt.
For this competition, he teamed up with Ueli Lehmann, who had realised several larger projects as an architect as a result of successful competitions.
The project "the world's dream peak" was declared the winner by the board of directors.
This was followed by the founding of a joint office, with locations in Zermatt and Zurich, in the existing offices of Heinz and Ueli. These two offices continue to exist, with Peak Architekten working on joint projects. Initially, these were mainly projects on the Klein Matterhorn: the restaurant on the south side as a short to medium-term improvement of the tourism infrastructure, the extension of the summit as a vision for the future, and the new cable car as additional capacity for transport.
In addition to the realised projects, various studies were also conducted, for example in Tibet, Japan and Canada.
For more information about
Heinz Julen
Ueli Lehmann